Take a minute and picture this! You just launched your blog a month ago and you have already posted a handful of blog posts. You're getting no feedback and you're unsure of what you need to do to begin growing your blog. You need to learn how to write an amazing blog post to grab your reader's attention!
Let's take some time today and learn how to do that, shall we? WE SHALL!
You might think that in order to write an amazing blog post, you have to be an amazing writer. To be honest, this is far from true. If you are passionate about what you are sharing with your readers and if you take the time to really help them with their problems, you'll easily be able to write amazing blog posts as a beginner!
There are 10 steps that I am going to break down for you today. These 10 steps will help you to create an amazing blog post every time you sit down and write.
Outline your post
Keyword research
Write a lengthy post
Use relevant photos
Include multiple links to other posts
Create and add a pinnable image
Include an opt-in form
Include appropriate affiliate links
Spell check like crazy
Make your post shareable
Now that I've broken down how to write an amazing blog post, lets talk a little bit more about each step.
Pin this for later because I'm going to share a lot of different resources for you to use later on!
This post may contain affiliate links and I might make a small commission if you choose to make a purchase (no additional costs to you). These commissions go right back into my blog. Thank you for helping me keep the blog running!
Ready To Start Writing An Amazing Blog Post?!
Are you seated at your laptop and ready to write some amazing content? Let's break down the major tasks you need to complete to reach this goal! 🙂
I'm going to break down the 10 steps that I listed above for you so skim this post and read what you need to know a little more info on.
1. Outline Your Post
Think back to when you were in English class whether it be in high school or in middle school even. Do you remember how your teachers would ask you to submit a draft or outline, before you turned in any of your papers that you were assigned?
Your teacher wasn't trying to create extra work for you. They were simply trying to help you be as organized as possible when it comes to your writing assignment.
The same goes for writing a blog post. If you outline your post, you're helping yourself with a couple different things. For one, you're not guessing about what you plan to talk about once you start your post. For two, you save a lot of time by writing a quick outline and then later on elaborating each point that you wrote down.
Shhh… Keep this a secret but, 9 times out of ten, I write my outlines on my phone.
I can't spend all day on my laptop with my children being home and I don't always have my laptop with me when I come up with a post idea. So I keep an ongoing post list on my phone and I draw out my outlines as well on my phone until I'm able to be on my laptop.
2. Keyword Research
When writing a blog post, you want to try to rank for keywords that go along with your niche, on Google. Doing keyword research allows Google or any other search engine, to put you into the right reader category.
Aside from Google, I also aim to rank on Pinterest. Pinterest is a huge asset when it comes to bloggers.
Keyword research on Pinterest is extremely easy! Type what you want to search about in the search bar and let Pinterest do the rest. Below what you entered into the search bar, will be a list of words that others are searching for on Pinterest. These words will be in relation to what you're writing about. These are your keywords!
Please remember: I'm definitely no keyword research pro. This is something I want to continue to learn as I go on!
When it comes to using research tools, my favorite is Keyword Surfer. This is a completely free extension for Google Chrome. Once installed, every time you search for something on Google, it'll tell you what the search volume is! It's super useful.
3. Write a Lengthy Post
I talk about writing long posts in many of my posts because this is a very important aspect of writing an amazing blog post.
When writing your actual post, you need to remember a few things.
Write about what your reader came to learn about. It's easy to just write about many different things and not stay on one particular subject. But this isn't the way to attract your reader to stay on your site and keep reading. The more resourceful a post is, the better.
Shoot for 1000+ words. If you are passionate about what you are writing about and you know a lot about the subject, you'll soon see that it's so easy to write that many words plus more! Believe it or not, I'm already almost to 1,000 words in this post and I am not nearly halfway finished yet!
Resources+1000 words (at least)= an amazing blog post
Not every blog post needs to be extra lengthy but it's not a bad habit to try shooting for this word range or even more.
4. Use Relevant Photos
Using appropriate photos in each of your posts helps to break up your posts!
Sometimes a picture can be worth a thousand words, right? So add in those pictures, friend!
Maybe you're wondering where you can get stock photos from.
I personally depend on Canva Pro a lot.
When you sign up for Canva Pro, you are given access to over one million photos to use on your blog and in your posts. Along with photos, Canva Pro is great for designing logos and graphics, freebies, and has hundreds of templates for you to customize!
For under $15 a month, I promise it's worth it!!
Quick Tip: Make sure to include alt tags for all of your images that you include in your post! This is so that search engines have a text alternative for finding your post or image.
5. Link Back To Other Posts
By adding links back to other blog posts, it helps your reader to stay on your blog longer and explore. If you talk about something that is in relation to your current blog post, link back to it.
I would recommend linking back to at least two or your own posts, in every new post. I have linked two of my posts so far!
Related posts:
What To Do After You Start A Blog
Easy Ways To Effectively Grow Your Blog
If you talk about another website or know of another blogger that can further explain what you are talking about, link back to them!
Posts I linked out to so far:
Keyword Surfer (free keyword research tool)
6. Create and Add a Pinnable Image
Guess what guys? Here is where Canva Pro becomes really resourceful again!!
Being that Pinterest is such a great way to promote your blog posts, you want to include a pin that is pinnable for your readers.
What does this mean? EASY! Create a vertical pin and make sure to tell your readers what they are reading about so if they do decide to pin it for later or share it with others, it's clear to ALL READERS, what your post is about.
Hey, look friends. The image above is an example of a pinnable image! It includes what my post is about and gives a quick rundown of what to expect when you start reading!
Not all pins are going to look the same but you do want them to look professional.
When I started blogging, I subscribed to Carly's pin template membership. Every month, she sends you customizable pins for Canva (you do not need Canva Pro for this) and also for PicMonkey which is another photo editing service. It made creating pins for Pinterest, foolproof! Check out her membership right here, today, you don't want to miss this!!
7. Include An Opt-in Form
By including an opt-in form to all of your posts, you're giving your readers a way to subscribe to your blog and keep following what you share with the world. This is a great way to grow your email list.
If you look at the bottom of my blog post (all of them actually), you will see a form where I allow my readers to subscribe to my blog to stay up to date about what I post. I also included a form at the beginning of the post where I offered free blogging schedules!
For opt-in forms, I use Convertkit. They are very easy to use (I started with Mailerlite and recently switched to ConvertKit). They are affordable and they make email sequences and opt-ins very easy to create for beginner bloggers.
8. Include Affiliate Links Where Appropriate
Why on earth would you ever do this?! LOL!
Well, if you joined the blogging world to make some money, affiliate marketing is one of the ways to make an income. If you're not sharing your affiliate links with your readers, you won't be making an income.
Above, I shared a few affiliate links with you as I am obsessed with the products that I use on my blog and hope to be able to help my readers find that same obsession! 🙂
Quick tip: Don't forget to add affiliate disclaimers in your post if you will be using affiliate links!
9. Spell Check… And Then Spell Check Again
Did you hear me when I said it the first time?! Spell check… and then spell check again!
This is so beyond important when you are done writing your amazing blog post. If you go to a website and they have spelling or grammatical errors all over, are you going to trust what they are telling you about?
Probably not! It looks really unprofessional when things aren't spelled or written properly.
This is where Grammarly comes in. Grammarly checks for grammatical errors as well as spelling errors as you type! I always proofread myself as well but Grammarly has saved me a lot of time.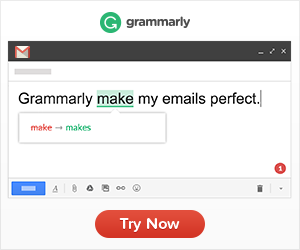 After I proofread with Grammarly and my own eyes, I also send my blog over to my close friend, and she proofreads it one more time! Get you a blogging bestie, it's great! She is a mom like myself and runs her own blog as well (Christian mom blog)!
10. Make Your Post Shareable
YOU COMPLETED YOUR POST! Do a little happy dance now! 🙂
There's just one final step left to complete before you're ready to hit publish. Make sure to include share buttons throughout your post!
There are many plugins that make it easy for others to share your post.
One of my favorites is Tasty Pins. This plugin not only allows you to optimize your images for SEO purposes, but it also generates a Pinterest share button that hovers over any of your photos to make for easy share access! There are so many things that Tasty Pins offer so check them out here!
The other plugin that I also use on my blogs is Social Warfare. This plugin adds share buttons to your posts (where ever you would like) and keeps your page looking neat. It also allows you to show how many shares your post has gotten and sometimes the readers will read your content if they see it's a popular read!
Phew. You Now Have An Amazing Blog Post!
Did you just write an amazing blog post?! Give yourself a pat on the back because creating great content is no easy task!
If you implimented these tasks into your work, I have no doubt that you are now able to write an amazing blog post!
I want to hear from you! Did this post help you?! Tell me how in a comment below! 🙂
xoxo. Rose <3